Whether you're looking for a professional service to set the tone and continued experience of your dream garden landscape or enhance your business premises, Eva's Garden Design is here to assist with a complete range of specialised services and solutions tailored to meet your desires and the specific needs of your property'.
Residential & private landscaping design.
Here at Eva's garden Design we believe that garden design should be the very epitome of personal expression which is why we invest time in understanding your exacting needs and desires when it comes to your home's landscape.
This unique and personable approach is what sets us apart and enables us to translate your vision into reality and too provide you with a garden that not only reflects and enhances your lifestyle needs but one that is also practical, sustainable and flourishes for years to come.
You may be thinking about a simple serene space that greater privacy or sound barriers to block out the noisy outside world, or perhaps you're after a texturized colourful oasis or wanting to create the perfect entertaining area or family fit playground? You may even want to enhance the style and character of your new home or simply spruce up a long ago planted garden, whatever your heart desires, you can trust Eva's Garden Design to work with you to bring your dream garden to life!
Brief overview of general landscaping services
• Plant selection & expertise in all garden plants, flowering favourites, indigenous plants, annuals, bulbs, climbers, ground cover, perennials, roses, shrubs, conifers, ferns & trees – small to large (fully established).
• All stages of plant installation placement, replacement & removal.
• Lawn installations >& replacements.
• Customised Irrigation solutions & installation.
• Customised water feature design & installation.
• Walkways, pathways & selected garden paving.
• Borders and bed design, stone & chip work.
• Decks, patios & elegant potted plants.
• Entertaining & family areas. • Designated garden & landscape lighting installation.
Commercial & corporate landscaping design
At Eva's garden Design we understand that your business premises are an extension of your brand identity and an integral component of boasting your company's image.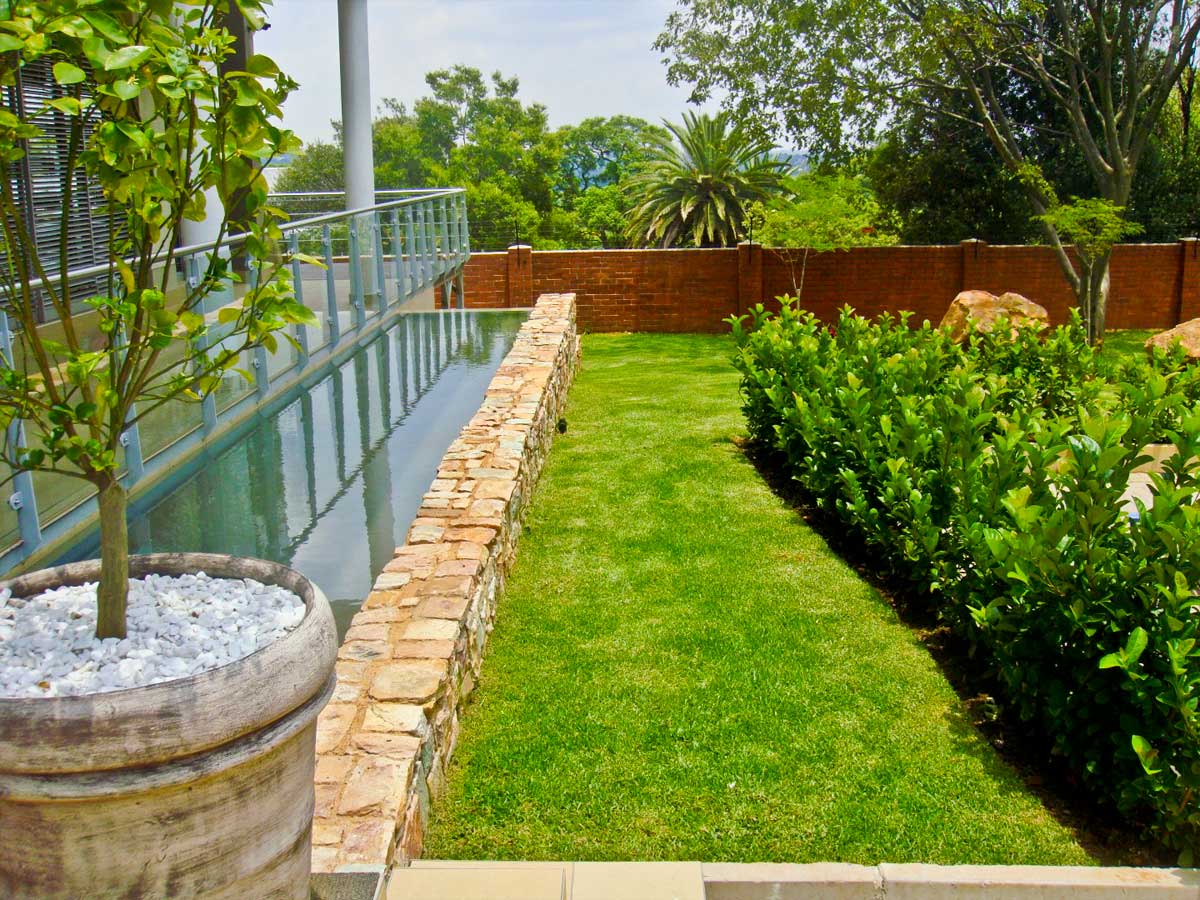 With an exceptional track record within the commercial and corporate landscaping sector Eva's garden Design has long worked closely with business owners, property managers and commercial developers in creating well-designed, cost effective and practical commercial landscapes that afford everlasting impressions and real long term value.
Virtual landscaping & concept design
Designing any greenscape is a multi-step process and to ensure our clients can better visualise their properties potential, end look and feel we actualise the design concept following consultation and site analysis by creating photo-based concept plans based on specific requirements outlined as well as walkthroughs and tours using 3D virtual landscaping design software.
Additional design services also allow our clients to view their garden or landscape design throughout different seasons and over the years.